Roast Chicken
Roasted Chicken has been on the menu almost since the restaurant opened. In September 2004 we opened with the idea of serving a three course prix fixe supper every evening with a vegetarian option for $25. I had visions of a European style country supper, the kind where you happen upon a small country place and sit down to whatever the host is serving for the evening.
How wonderful it was going to be to sit down and be presented a carefully balanced and thoughtful procession of courses! Unfortunately this idea did not have the broad appeal that I imagined and after a couple of months we switched to the traditional restaurant menu format.
Roast Chicken is a meal that I love. It was Sunday dinner in my house growing up and I've always loved it and always lamented the difficulty in finding a good one in a restaurant.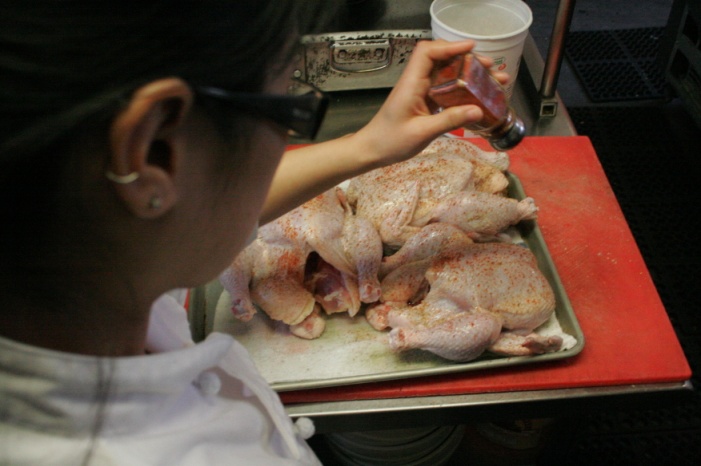 We start with Murray's Chickens. Free of hormones and antibiotics, certified humane slaughtered and produced on small Pennsylvania farms, they have a great natural chicken flavour. To keep them juicy we soak them in brine for 8 hours. After a rinsing, they are dried thoroughly, rubbed in olive oil, kosher salt, freshly ground pepper and a dusting of sweet paprika and roasted in a 450 degree oven for 1 hour.
Because we serve a half of a chicken and present it on its cut side, it's important that the bottom of the chicken is also crispy, delicious and pretty. Heating the roasting pan ahead and placing the chickens on the sizzling hot surface, ensures a nice crispy bottom – no flabby fat in sight!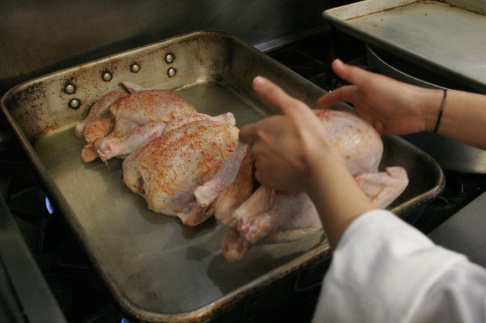 As one of our longest running menu items and most requested recipe I chose it for my inaugural recipe on this my very first blog entry.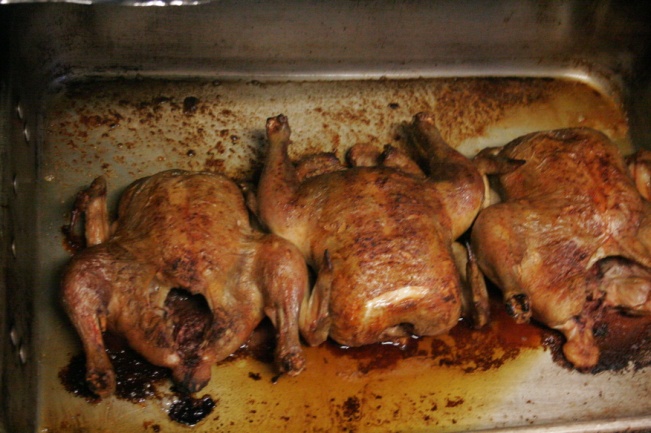 ROAST CHICKEN
Preheat oven to 450 degrees
Two or Three Murray's 2 ½ lb chickens
Diamond Kosher Salt (Morton's grain is too fine)
Pomace Olive Oil*
Freshly ground pepper
Sweet Paprika
Thyme
Rosemary
Sage
1 qt Chicken Stock (4 cups)
Brining Chicken
For 12-14 hour (overnight) brine 1 ½ cups kosher salt to 12 Qts water
For 6 -8 hour brine 3 cups Kosher salt to 12 Qts water
Remove from brine and rinse thoroughly under cold running water
Pat dry completely. Wet chickens will steam resulting in flabby flesh.
When thoroughly dry – rub with pomace olive oil, salt & pepper and lightly dust with sweet paprika.
PLACE LARGE ROASTING PAN OVER TWO BURNERS.
Heat 2 tablespoons grapeseed oil in roasting pan until very hot.
When chickens are placed (breast up) in oil they should sizzle. We do not truss our birds – the legs akimbo pose generates more surface of skin to crisp.
Place in pre-heated oven and cook 'til crispy and completely cooked. Approx 1 hour
Remove Chickens to a warm platter and add 1 quart of chicken stock and a sprig each of rosemary, thyme and sage to the roasting pan.
Place the roasting pan over two burners on the stove top on high heat. Using a wooden spoon scrape up the caramelized  bits of chicken juices until they dissolve into the stock. Boil on high until reduced in half and strain into a fat separator.
When the gravy has settled and the fat rises to the top, pour out the pan gravy from the bottom.
If you don't have a fat separator skim the fat off the top with a small ladle or spoon.
*Olive Pomace Oil has a more neutral flavour and a high smoke point unlike Extra Virgin Olive Oil which degrades when heated and is best suited to salad dressings and finishing soups or stews