Mashed Potatoes
Being Irish I feel a particular pride in making really fabulous mashed potatoes. I've had mashed potatoes in fancy restaurants that were made with such a high ratio of butter to potato that I feel they cannot be truly called mashed potatoes.  The richness of that rendition sends the dish to a rarified place.  And of course I've had those gluey versions that are prevalent in diners. It's another one of those so-called humble ingredients that frequently gets treated like an after-thought. My recipe is know as Champ in Ireland because of the addition of scallions and I use a ricer instead of the traditional masher. The oxo brand ricer is very comfortable to use and is a real work horse in our commercial kitchen. We are only on our second one in six years which I find pretty great for a product that was not designed for these conditions.
The Kitchen-Aid mixer that I love comes with instructions and recipes. It amazes me every time I see the recipe for mashed potatoes made in the bowl of the mixer using the beater attachment. This is so wrong and makes for horribly gluey results. I will admit that the Fiesta Cheesecake Appetizer also fascinates me but for different reasons. Do the people who make this wonderful machine really believe that their customers are interested in recipes that seem to have been written circa 1980?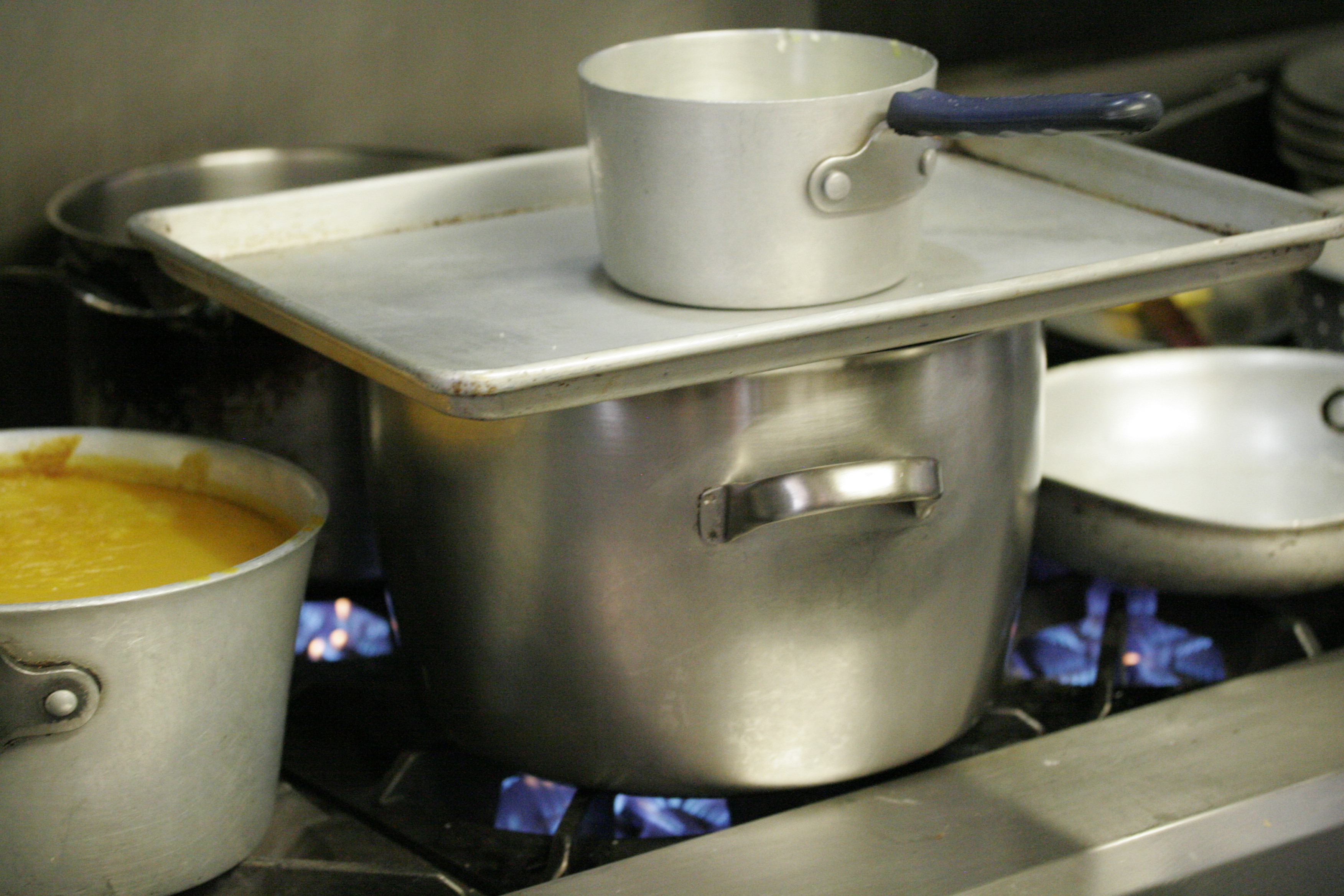 Yukon Gold potatoes are my favourites for their creamy texture, buttery flavour and pretty golden colour. I once read that in parts of Ireland potatoes were traditionally cooked in sea water and I find it a good indication of the amount of salt needed in the cooking water. I would call it copious amounts. Italians seem to feel the same way about salting water for pasta
I start by cutting the potatoes into pieces so that they're all roughly the same size and will cook at the same rate.  Drop these into cold water and add a couple of tablespoons of kosher salt.  I cover the pot with a small sheet pan because I don't have a lid for that pot and turn the flame to high.
Heavy cream, butter, sliced scallions and salt is added to a small pot and placed on top of the pan to warm. By the time the potatoes are tender the butter is melted into the warm cream and  infused with the flavour of spring onion.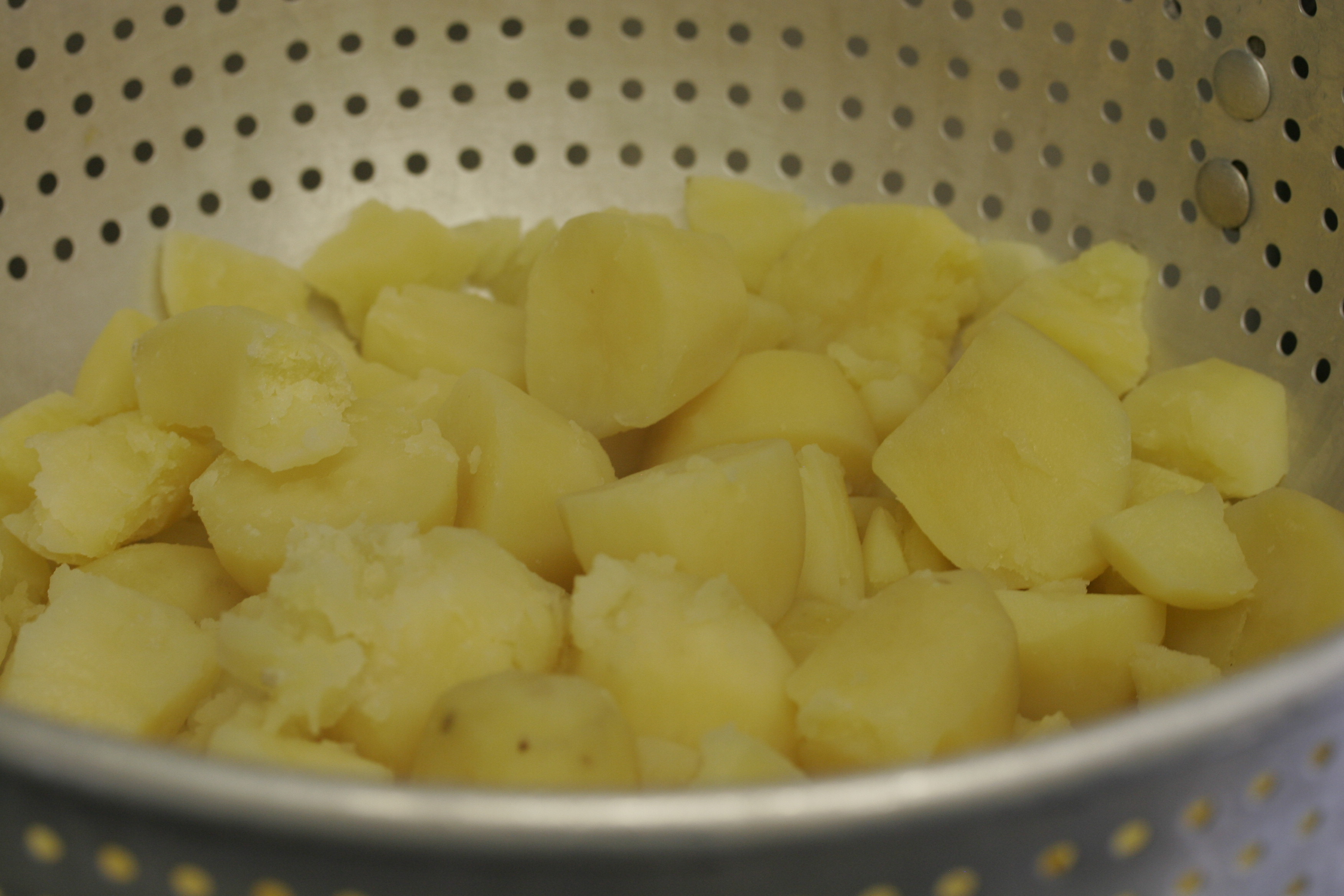 When the potatoes fall apart when pierced with a paring knife, they are cooked and are drained into a colander over a sink. Allow to drain for a couple of minutes and then gather a large spoon, a ricer, some salt and the pot of warmed cream mixture. Rice the potatoes back into the pot they were cooked in, add the warmed cream mixture and a tablespoon of kosher salt and mix together.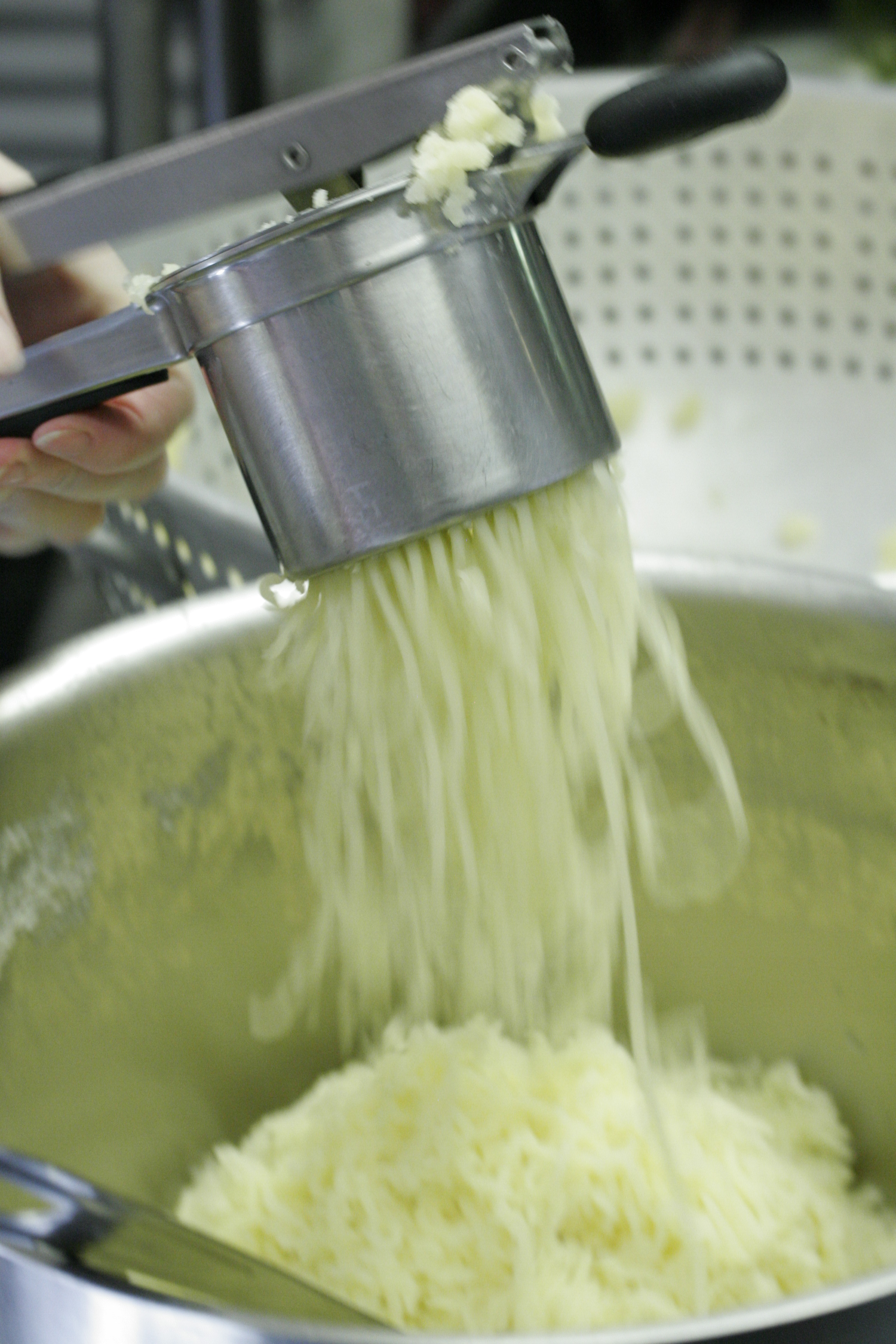 It's important to taste the mashed potatoes at this point. Are they the best you've ever tasted or would a little more salt bring out the flavour more? We are not looking for salty mashed potatoes, but the most intense potato flavour. Add a little salt, taste, add more if necessary. This is what is meant when recipes inevitably add the words "season to taste".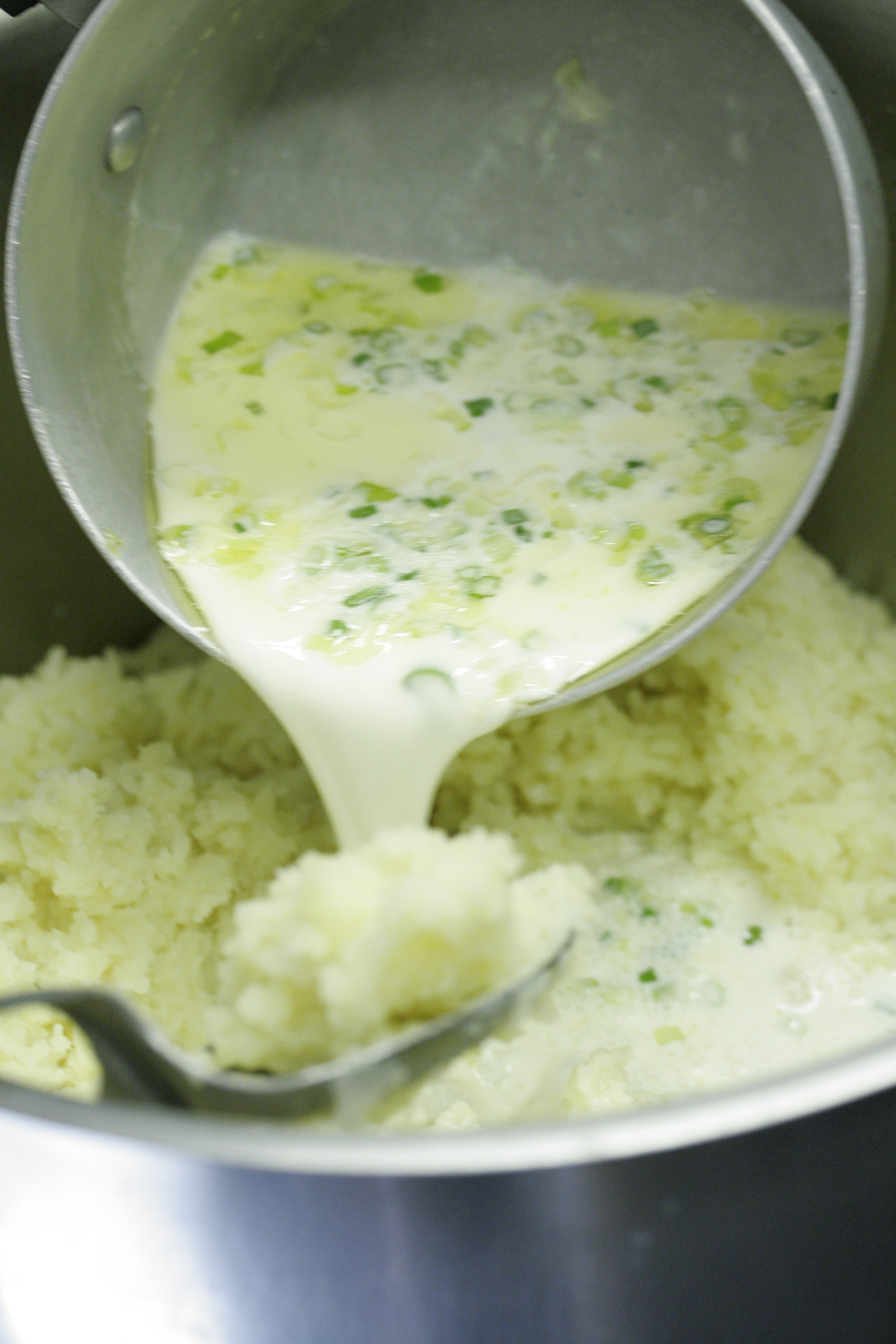 MASHED POTATOES
3 ½  Lbs Peeled Yukon Gold Potatoes cut into 2-3" pieces
1 cup Heavy Cream
½  Stick Butter (2 oz)
2 Scallions Chopped finely (including dark green parts)
Kosher Salt
Serves 6-8