Madeleines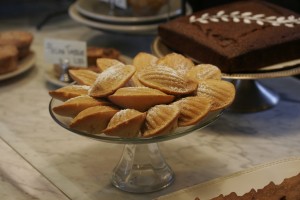 I lived in Paris for two years in the 1980's, a "jeune fille au-pair", completely smitten by every Pattisserie I encountered. Oddly I don't ever remember eating a Madeleine in Paris. Back then my obsession was Macarons au Chocolat. Not the dainty ones that are now fashionable, but big hefty chewy versions. Madeleines I discovered at Marquet patisserie on 12th street in Manhattan. Just off Fifth Avenue, it had a wonderful European feel. After lunch when I paid at the counter I grabbed two Madeleines neatly packed for impulse purchasing by the cash register. Tender and delicate, simple and elegant – my husband and I consumed dozens.
Before we opened our restaurant we had much work to do including demolition of the interior of the building, permits, construction and financing. Because we were changing the use of the building from a residence to a restaurant we were required to apply for a Special Use Permit. This was going to be daunting – I heard many tales of the difficulty of procuring such a permit in notoriously anti-business New Paltz. In the weeks preceding my date with the Planning Board I worked on perfecting my Madeleine recipe. I decided to present the board and the audience with freshly baked Madeleines. Every day my children came home from school to yet another batch. Finally I was happy with the recipe. They were tender, moist, fragrant with vanilla and sporting the essential hump on the back. I presented one to everyone in the room, the air was filled with the heady aroma of butter and vanilla and we were granted our permit that very night. We think it was the Madeleines.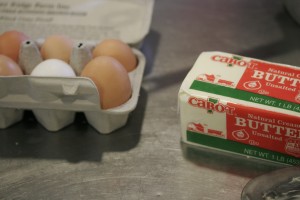 Madeleines
3.8 oz sifted King Arthur All purpose Flour 
¼  Teaspoon Rumford Non Aluminum Baking Powder 
1/8  Teaspoon Salt
3 oz Unsalted Butter
3  Best quality farm Eggs
1 Egg Yolk
2.6 oz Sugar 
¾  teaspoon Vanilla Bean Paste (Nielsen Massey)
Softened butter for greasing pans 
 Makes 12 Madeleines
Preheat Oven to 350 degrees.
Grease Madeleine pans with softened butter and place greased pans in fridge to harden.
Melt the 3 oz butter & and set aside to cool
Sift together flour, baking powder & salt.
Beat together the eggs, egg yolks, sugar & vanilla to the "ribbon" stage with whisk attachment. Sprinkle all the flour mixture over the eggs & mix slowly to just combine. Finish folding in any remaining flour with a rubber spatula.
Whisk 1/3 of the batter into the melted butter, and then fold this into the rest of the batter.
Let rest for at least 30 minutes
Fill the molds with an over-filled tablespoon measure (or a handy dandy scoop like we do), ¾ full & bake until golden on top & golden brown around the edges, 8 – 10 minutes.
Loosen immediately with the tip of a knife & flip over in their pans. Dust with powdered sugar when cool.