Rhubarb Chutney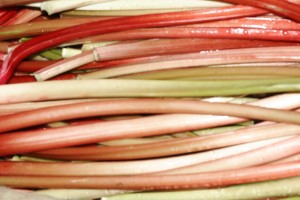 Rhubarb Chutney is a spring time staple here at the restaurant. Because Rhubarb is in season weeks before strawberries I look for other uses for this fantastically assertive and beautiful vegetable. Rhubarb Collins is a pretty pink gin drink we make yearly around Mother's Day and Rhubarb Chutney accompanies the Cheese Board and our Roast Chicken. Unlike some chutney that needs to cook for hours to meld the vinegar and sugar and fruit flavours, this is a quick recipe. In fact you have to be careful not to over-cook, as rhubarb can too easily reduce to mush. Celery in the recipe is a little culinary sleight of hand: the shape and crunch mimic that of raw rhubarb. Dried cranberries can be replaced with other dried fruits such as dried cherries to help keep the pretty pink colour and add texture and flavour. I love the way mustard seeds swell in chutneys and vinaigrettes yet still pop and crunch in your mouth. Orange works well with rhubarb and we frequently add orange zest and juice to Rhubarb Crisp. Locally here in the Hudson Valley we've purchased rhubarb from Wilklow Orchard in Highland and from some of our guests who grow more than they can use.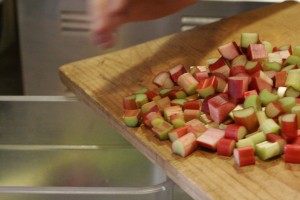 Rhubarb Chutney
3 lbs Rhubarb,
1/2  Cup Sugar
3/4  Cup Widmark Clover Honey
1 Cup Dried Cranberries
1/2  Cup Red Wine Vinegar
4 tablespoons Red Wine
2 Tablespoons Yellow Mustard Seeds
2 Teaspoons Diamond Kosher Salt
Pinch Cinnamon
Pinch Allspice
Pinch Cayenne
3/4  Cup finely diced Pine Island Red Onion
1 1/4  cups Celery (1/2" slices)
1 Tablespoon Grated Orange Zest
1 tablespoon minced Jalapeno
1 1/2  tablespoons Lime Juice
Trim the rhubarb, cut into ½" and place in a bowl
Sprinkle with the sugar and macerate for 30 minutes
If the rhubarb exudes a lot of liquid, drain off before preceding. I ahve found that the rhubarb we get is not very wet.
In a large heavy bottomed pot, cook the honey, cranberries, vinegar, red wine, mustard seeds, salt and spices over medium heat until thick and syrup-like
Add red onion & celery and cook for a few minutes.
Add macerated rhubarb and  cook for ten minutes stirring frequently.
Chutney is done when rhubarb is just breaking down but not mushy.
Add orange zest, lime juice and jalapeno and stir to heat through.
Chutney is best served at room temperature
Store in refrigerator – keeps for weeks
Makes 2 qts