Dingle Pies
Barner Books is a treasure of a second hand book store in New Paltz with a large selection of cook books. Many of them seem to have been written by Jeff Smith, The Frugal Gourmet and the editors at Better Homes & Garden. Hidden among them  is an occasional winner and so it was that I found one day a first edition of Myrtle Allen's Cooking at Ballymaloe House, published in 1990. Full of recipes like Hot Buttered Oysters, Ballymaloe Brown Bread and Lettuce and Mint Soup, its great pleasure is Myrtle Allen's distinctive voice and the anecdotes that accompany her recipes. Her recipe for Spiced Mutton Pies (Dingle Pies) intrigued me and was the springboard for the Dingle Pie that is on our menu today. Dingle is a fishing village located on the west coast of Ireland where, she writes "that long wild peninsula plunges into the great Atlantic"
Myrtle Allen calls her version a sophisticated descendant of Dingle Pies. Hers are made with mutton and a hot butter crust. Ours in that case must be an emigrant relative, fashioned with ground lamb and encased in a cream cheese pie dough. The Ploughman's Lunch comprises of a warm Dingle Pie served with cornichons and whole grain mustard, Cabot sharp cheddar, Multi grain organic bread, fruit and a little crock of house-made chutney. Served with a pot of tea and some cookies it makes a fine lunch.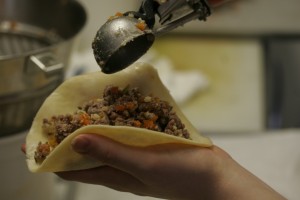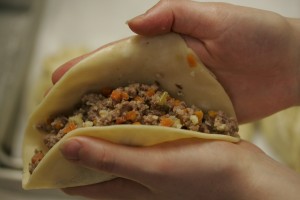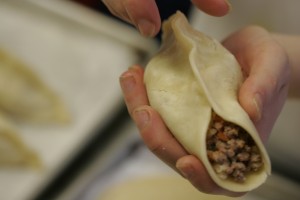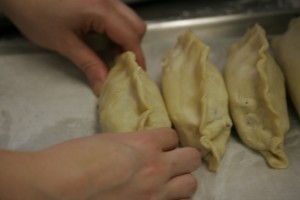 Flaky Cream Cheese Pie Crust                                            
6 oz   Cold Unsalted Butter (12 tablespoons)
10 oz Unbleached All-purpose Flour (2 cups)
¼  Teaspoon   Salt
¼  Teaspoons Non Aluminum Baking Powder
4.5 Oz Cold Cream Cheese
2 Table spoons   Ice Water
1 Tablespoons Cider Vinegar
Place flour, salt & baking powder in the bowl of a stand mixer. Add well chilled cream cheese cut into 1" pieces and process until mixture resembles coarse meal. Add butter & process until butter is no larger than pea sized. Add water & vinegar Mix briefly. Mixture will be in particles. Dump out on to counter & bring together with your hands. Divide into two discs, wrap & refrigerate at least one hour
Dingle Pies
2     Large Onions
5   Carrots
2     Stalks Celery
3  Teaspoons Cumin seed
1 Teaspoon Kosher Salt
½ Teaspoon Pepper
2     Lb Ground Lamb
1     Pint Chicken Stock
2 Tablespoons Butter
2 Eggs (egg wash)
Makes approx 2 dozen pies.
Dice finely the onions, carrots & celery. Season with ½ teaspoon salt & soften on a low flame in the butter approximately 15 minutes.  Add the ground lamb and brown evenly breaking up the meat, so there are no lumps. Add the cumin seed, remaining salt & freshly ground pepper. Stir in chicken stock when lamb is browned. Place, uncovered in a low oven (250º) for 30 minutes. Allow to cool.
Roll out cream cheese pie dough and cut into 5" circles. Chill circles for at least one hour. Holding a circle of dough in the palm of one hand, fill with cooled lamb mixture. Bring both sides together starting with the outer edges and working towards the center. Pinch the edges of the dough so it sticks together. Place on a cookie sheet lined with parchment paper and crimp the edge. Freeze overnight or for several hours. (If the pies are not frozen they will burst open in the oven).
Whisk eggs in a bowl with a pinch of salt. When the pies are completely frozen, place on a parchment lined cookie sheet spaced 2″ apart, brush with egg wash and bake in a 400º oven for 35 minutes until golden & filling is bubbling.