Beet Gazpacho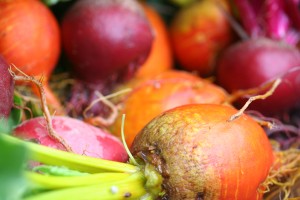 My only experience of beets growing up was pickled beets in a jar which tasted like textured vinegar to my childish palate. In France when I was sent to do the intimidating task of the weekly family marketing at the Marché I found beets sold in vacu-sealed pouches fully cooked and ready to be tossed in a vinaigrette for a quick and lovely salad. I loved their unique sweet earthiness. They are particularly good served with goat cheese and walnuts. Orange zest is a lovely foil to the beets and tossed with orange supremes (which quickly turn a magnificent blood colour) and a citrus vinaigrette it's a vibrant and beautiful salad.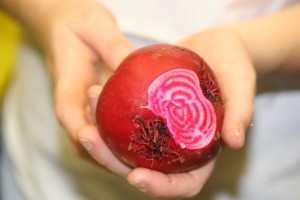 This pretty and refreshing soup is perfect for June. Beets are young, tender and cook quickly. My method for cooking beets is to cut off their tops, place them in a shallow roasting pan with about an inch of water and cover and tightly seal with tin foil. Cook in a 350 degree oven for 1 – 1/2 hours. Check after one hour that the water has not evaporated. They are cooked when a small paring knife glides in and pierces the beet without the slightest resistance. Make sure to cut larger beets so that the pieces are evenly sized and cook uniformly. Undercooked beets are like undercooked potatoes – awful! Creamy and intensely pink it's hard to believe this soup is vegan.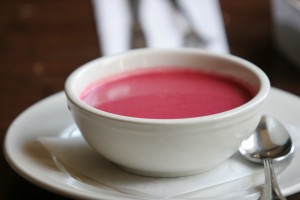 Chilled Beet Gazpacho
3 tablespoons  Pomace Olive Oil
3 Lg Onions
1 Teaspoon Kosher salt (plus more to taste)
2 Large Potatoes cut in ½" dice
7-8 Large Roasted, Peeled & Sliced Red Beets (1/4")
Water to cover
3 tablespoons Apple Cider Vinegar (or more)
6 sprigs Lemon Thyme leaves stripped
1/4 cup chopped Dill plus more to garnish
 Sweat onions in olive oil & salt on low- medium heat for 15 -20 minutes.
Add beets, potatoes & thyme. Add Apple Cider Vinegar & filtered water to cover and bring to a boil.
Simmer for a further 15-20 minutes, until potatoes are tender.
Add dill, salt & pepper to taste and puree with immersion blender. Taste and add more Apple Cider Vinegar if flavour needs brightening.
Chill  in fridge for several hours before serving.
We are using Taliaferro Farm's organic beets right now. The photos of the pretty candy striped and multi coloured beets are from Brook Farm. We used those varieties in salads.