Lime Cilantro Sweet Potatoes
I first came across this combination of sweet potatoes with lime juice and cilantro in Alice Water's book Chez Panisse Vegetables. In it she roasts the sweet potato whole then slices it in half and sprinkles over the lime vinaigrette and cilantro. Up to that point I had never liked sweet potatoes much. Most recipes seemed to make an already sweet vegetable even sweeter, but this was the exact opposite. The natural sweetness of sweet potato was enhanced by the juxtaposition of the tart lime and the subtle heat of cayenne. I wanted all that tart, spicy vinaigrette on every bite and so I cut the potatoes into cubes to roast. Limes are often described as a green slightly less acidic lemon: I find this to be such an injustice to the complexity of limes. The floral aromatic aroma of a lime cannot be replicated by substituting a lemon.  We add cayenne to the oil before roasting to tame the heat subtly and add another dimension of flavour. Don't chop the cilantro leaves too finely and eat when the sweet potatoes are still slightly warm. Last summer for the first time we were able to purchase local sweet potatoes from Taliaferro Farm. If different varieties are available the orange and whiter versions look lovely together with flecks of lime zest and bright cilantro leaves.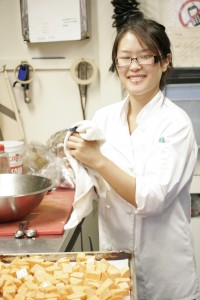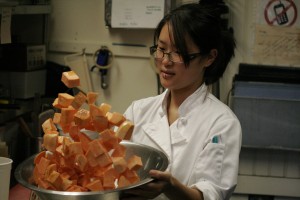 Lime Cilantro Sweet Potatoes
Serves 8
4 lbs Sweet Potatoes, peeled & cut into ¾" pieces
1 fl oz Pomace Olive Oil
1  fl oz Zoe Ex V Olive Oil
1 Teaspoons Diamond Kosher Salt
¼   Teaspoon Cayenne
½  Teaspoons finely grated fresh Lime Zest (use a Microplane)
1  fl oz Fresh Lime Juice
¼  Cups chopped fresh Cilantro
Preheat oven to 350˚F.
Toss sweet potatoes with 1 fl oz pomace olive oil in a large bowl & sprinkle with ½ teaspoon salt & ¼  teaspoon of cayenne. Roast potatoes in one layer on a sheet pan or cookie sheet for approx. 25 -35 minutes, until tender. The potatoes around the perimeter of the pan will inevitable cook before those in the middle so it's important to stir them up half way through. A big wide flat spatula is useful. Allow to cool slightly.
Whisk together lime juice & extra virgin olive oil in a bowl large enough to accommodate tossing the sweet potatoes. Add zest & remaining salt and coat cooked potatoes in vinaigrette. Add chopped cilantro stirring gently to combine.