Blueberry Muffins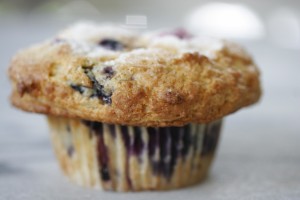 A muffin is a type of quick bread that uses baking powder (or soda) for leavening. Its charms are a delicate texture and open even crumb. With less fat than cake they dry out quickly and are best eaten the day they are baked. This recipe ended my search for the perfect blueberry muffin. It uses sour cream which I use in baking frequently. Many muffins are just overly sweet and the personality of the fresh fruit is beaten into submission by a whole lot of sugar. I'm not one of those people (obviously!) who rail against the evils of sugar, but I'm constantly dismayed by the lack of complexity in sweets. Sour cream imparts moisture, complexity and a lovely tang that balances out the sugar.  For years we've used Cabot sour cream but recently discovered Hudson Valley Fresh's outstanding sour cream. Made with whole milk and heavy cream it has a lush and creamy texture.
King Arthur's All-Purpose unbleached flour has served us well for all our baking from bread sticks to muffins to cakes. While bleached cake flour would undoubtedly make a finer crumbed and more delicate cake I weighed those qualities against the idea of using bleached flour and decided that it was not worth it. King Arthur flour is not bromated (a carcinogen, banned in Canada and Europe) and that's another reason to use it. While flour has doubled in price since we opened 7 years ago it is still relatively reasonably priced and I think worth paying a little more for high quality.
Rumford's Non-Aluminum Baking Powder is readily available and worth seeking out. Here's a link to David Lebovitz's fun knowledgeable blog and a post he did on the merits of non-aluminum baking powder. Aside from health concerns about consuming aluminum it imparts a faint metallic taste which may be what you're looking for in a fine French Chablis but not in your blueberry muffins!
This recipe makes seven extra-large bakery style muffins and uses only one egg. A beautiful farm egg from a happy hen that gets kitchen scraps as well as grains and bugs will reward you with a golden hued muffin.
A large lever style ice cream scoop is a good investment for achieving consistent portions. Portion control isn't just about appearance: smaller portions cook faster than larger.
I believe it's best to make this recipe without a stand mixer because the worst thing in muffin making is over-mixing. By all means whip the eggs and sugar with all the furious energy that you can muster but when it's time to marry the wet ingredients to the dry, it's better to err on the side of under mixing and leaving a few spots of flour. You will be rewarded with a muffin of uncommon delicacy and flavour.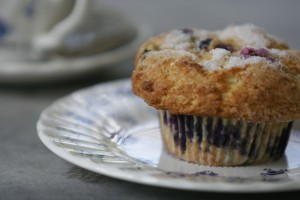 2 cups (10 ounces) unbleached all-purpose flour
1 tablespoon baking powder
1/2 teaspoon kosher salt
1 large egg
1 cup (7 ounces) sugar
4 tablespoons unsalted butter, melted and cooled slightly
1 1/4 cups (10 ounces) sour cream
1 1/2 cups blueberries
Makes 7 large muffins
1. Adjust oven rack to middle position and heat oven to 350 degrees. Line Muffin pans with paper liners.
2. Whisk flour, baking powder, and salt in medium bowl until combined.
3. Whisk egg in second medium bowl until well-combined and light-colored, about 20 seconds. Add sugar and whisk vigorously until thick and homogenous, about 30 seconds
4. Add melted butter whisking to combine after each addition. Add sour cream, whisking just to combine.
5. Add berries to dry ingredients and gently toss to combine.
6. Add sour cream/butter mixture to dry ingredients and fold with rubber spatula until batter comes together and berries are evenly distributed, 25 to 30 seconds (small spots of flour may remain and batter will be thick). Do not over mix.
7. Use large over-filled scoop to drop batter into lined muffin tin. Bake until light golden brown and toothpick or skewer inserted into center of muffin comes out clean, 25 to 30 minutes.