Peach Pie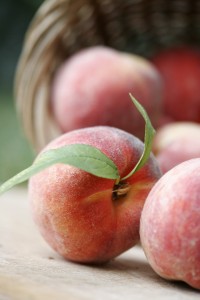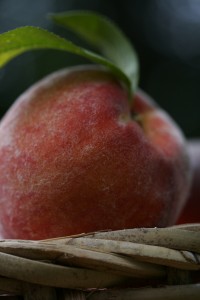 Almost seventeen years ago I took a trip to Amish country, Lancaster Pennsylvania with my husband and my niece who was about 14 at the time. My head was filled with images from Witness, that dreamy movie with Harrison Ford. I imagined a pretty, bucolic interlude and plain but tasty home cooked fare.
We arrived at Mrs. Hood's B&B establishment expectant and excited to begin our mini vacation. She gave us quite the frosty and forbidding reception. Breakfast was served at 6.30 and 7.30am and she hoped we would be accommodating and choose the 6.30am service. I was flabbergasted. No vacation I'd ever planned included a 7.30am breakfast not to mention a 6.30am. She resigned herself to us NOT being accommodating and put us down for the 7.30am. Our rooms were not plain in the way the decorators had imagined on the set of Witness, they were spectacularly ugly. Ripped vinyl flooring tripped me up on the way to the bathroom which had a lovely view of a dozen ShopRite plastic bags drying on the clothes line in the summer breeze.
Our breakfast companions were 8 or 10 Europeans with very little English or perhaps they just were pretending to not understand Mrs. Hood as she stood behind each guest reminding them of the evils of waste, imploring them not to take more than they needed as they helped themselves to the coffee and meager muffins.
Our sojourn among the Amish of Lancaster County did not improve from that moment. We left on Sunday evening dispirited further by a trip to Hershey Park, home of the worst chocolate in the world. Driving on a country road and heading home we passed a gaggle of pretty Amish girls at a farm stand. In their caps and aprons, their hair parted uniformly down the center they were giggling and shy, gossiping behind their hands and standing at a table laden with peaches. We bought a big bag and took off for home. And that was when I had my Proustian moment. Those peaches were the sweetest juiciest peachiest peaches I ever ate.  We ate one after another after another, their sweet juices running down our chins. We couldn't get enough of them. Did we pull over the car just to concentrate on the intense pleasure of devouring those magnificent peaches? I don't remember. It was a blur of sensory indulgence.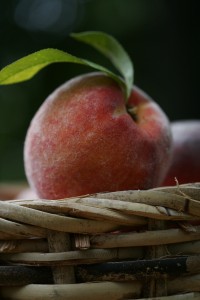 Since then every peach I've eaten is measured against the peaches we ate that day driving away from Mrs. Hoods House of Horrors. Sometimes I wonder, were they really that good? And then my niece will ask if this year's peaches are as good as the ones we ate in the Oldsmobile in Pennsylvania when she was a teenager. She had a Proustian moment too.
Peach Pie
The method outlined in this recipe is the similar to the method we use for apple pie. Fruit pies exude a tremendous amount of liquid. Many recipes deal with this by adding large amounts of cornstarch or tapioca. This results in a bottom crust that is soggy and pasty and a thick gelatinous coating around the fruit. Macerating the fruit before cooking helps to extract the juices before baking. Those extracted juices are boiled down, concentrating their flavour and reducing the amount of liquid. This is adapted from Rose Levy Beranbaum's The Pie & Pastry Bible.
8-10 Medium Free Stone Peaches (ripe about 8 cups)
1 Tablespoon lemon juice
½ Cup sugar
¼ Teaspoon Almond Extract
Pinch Kosher Salt
4 Teaspoons Corn Starch
1 Tablespoon Sugar (sprinkling on top)
 1 Egg beaten with a pinch of salt (egg wash)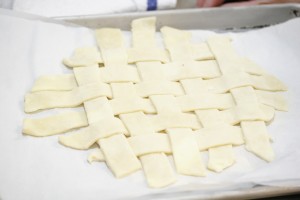 Line 9" Pie plate with dough & refrigerate strips for lattice top (recipe follows)
 Pre heat oven to 375 degrees,
Bring 3 quarts water to boil in large saucepan, and fill large bowl with 2 quarts cold water and 2 trays ice cubes.
To peel peaches; first, with a paring knife, score a small x at the base of each peach. Next, lower the peaches into boiling water with a slotted skimmer.
Cover and blanch until their skins loosen, about 2 minutes.
Use a slotted spoon or a sieve to remove the peaches into iced water and let stand to stop cooking, about 1 minute.
Whe they are cool enough to handle peel each peach, halve and pit it, and cut into 3/8-inch slices.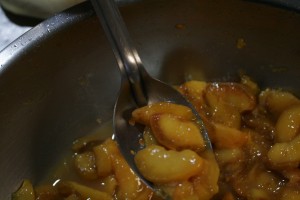 Toss peach slices, lemon juice, sugar, & salt in a bowl and allow to macerate for 30 minutes.
Transfer to a colander suspended over a bowl and capture the juices.
Boil down the juices to about 1/3 cup until syrupy & lightly caramelized.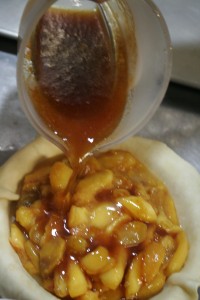 Toss peaches in almond extract and cornstarch until the cornstarch has completely disappeared. Pour the syrup over the peaches, it may harden.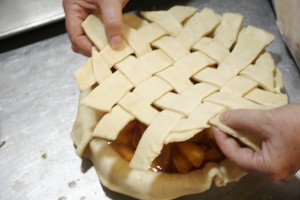 Turn mixture into dough-lined pie plate. Remove dough strips from refrigerator, let stand at room temperature until softened slightly but still  cold. Working quicly, make a lattice top on a sheet of parchment paper. Upturn on top of peaches. Fold over the bottom crust over the lattice top to create a high edge and pretty it up to your hearts content.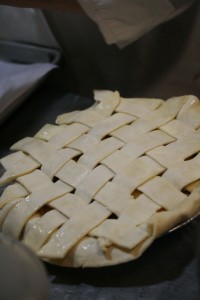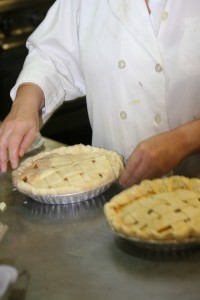 At this point we freeze the pie. When it's completely frozen, lightly brush lattice top  with egg wash. Sprinkle with remaining 1 tablespoon sugar.
Freezing the pie gives us a flakier crispier bottom crust.
Place pie on baking sheet and bake until crust is set and begins to brown, about 20 minutes.
Place a Pie Shield on the pie and cook for a further 35 -40 minutes
Cool for at least an hour before serving
Flaky Cream Cheese Pie Dough
6 oz   Cold Unsalted Butter (1 1/2 sticks)
10 oz Unbleached All-purpose Flour (2 cups)
¼  Teaspoon   Salt
¼  Teaspoons Non Aluminum Baking Powder
4.5 Oz Cold Cream Cheese (1/2 package)
2 Table spoons   Ice Water 
1 Tablespoons Cider Vinegar 
Make Two 9" crusts
Place flour, salt & baking powder in the bowl of a mixer. Add well chilled cream cheese cut into 1" pieces and process until mixture resembles coarse meal. Add butter & process until butter is no larger than pea sized. Add water & vinegar.  Mix briefly. Mixture will be in particles. Dump out on to counter & bring together with your hands. Divide into two discs, wrap & refrigerate at least one hour